I'm going to be an Auntie! I'm going to be an Auntie! (name that movie)
So I'm doing what best aunt's in the world do, giving my sewing machine a workout.
First up, a scrappy rainbow baby quilt. I got the inspiration and am quilting along with
Comfortstitching,
a lovely talented quilter blogger in the UK.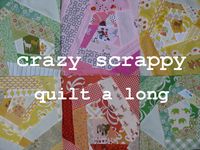 Here are my blocks: (these things are ADDICTING!)
I'm a little late in posting about it so they have actually been pressed, cut and framed. I'm going to wrap up the quilt top soon and will be sure to share! It's not too late for you to join either. These blocks are perfectly suited to my quilting style, very little cutting and measuring!